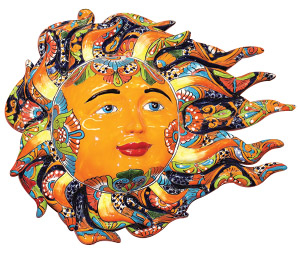 In 1976, Jaime J. Preciado drove with a truckload of Mexican handcrafted products into the Midwest.  Overwhelming demand for these decorative items propelled Preciado Mexican Imports as we know it today.
Since then, Jaime has traveled to the deepest parts of Mexico in search of the most unique handcrafted items.  We always seek to find the newest and most unique items, and never forfeit QUALITY."
We have also established our reputation throughout the Southwestern United States as a leading provider of the largest variety of handcrafted products direct from the heart of Mexico. Regular travels to Tonola, San Miguel de Allende, Dolores Hidalgo, and other regions allow us to maintain direct relationships with the manufacturers.
Over the years, our product line has evolved to include over 200 handcrafted items made from ceramic, tin, wood, and more. We carry a large variety of mirrors, crosses, suns, statues, planters, switch covers and a variety of other decorative items in almost every size, shape and color.
Our online catalog displays a portion of our overall inventory as products turn over quickly. If there is a product that you are interested in and don't see, be sure to contact us, there is good chance we already have it and if we don't, we can find it for you!